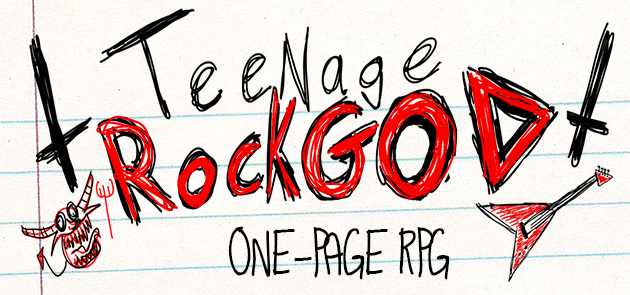 Teenage Rock God
For far too long, suburbia has been enslaved by THE MAN. YOU know who THE MAN is- he's the guy telling you to follow the rules, telling you to stand-up straight and tuck in your shirt. He preaches conformity, order, and obedience above everything else- and as long as you live under HIS roof you're going to FINISH your homework, SAY your prayers, and be in bed BEFORE TEN. And absolutely, positively, NO ROCK AND ROLL.

But tonight. as you pray beneath your poster of Ronnie James Dio, something amazing happens. Through the POWER OF ROCK, you are transformed into a force of DESTRUCTION and DISOBEDIENCE, a TEENAGE ROCK GOD.
You must cause as much destruction and chaos as you can, inciting the youth of suburbia to REBEL AGAINST SOCIETY!
---
TEENAGE ROCK GOD is a one-page RPG about rebelling against society and kicking suburbia square in the nuts. It's inspired by the music of Motley Crue, Twisted Sister, and Van Halen.
Download
Click download now to get access to the following files:
Teenage Rock God.pdf
7 MB